Hi My Dear Friends!!!
Hope you all are doing well.
Many of you will ask questions that my resume is not getting shortlisted, I have prepared very well for my interview but still did not crack the interview, What to do, how to prepare, what are the do's and don'ts which needs to be considered. After hours of discussion with candidates like you and HRs I am writing this article to help you to crack your interview faster. Today let's find out below the 5 tips which will help you to get your dream job faster.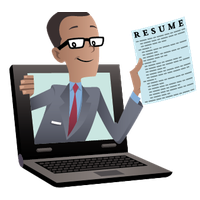 Prepare your resume by using action oriented words such as Prepared, Performed, Achieved, Participated etc.
Use bullet points to explain your points
Write your experience in descending sequence which means first mention your latest or recent experience followed by the oldest one. If you are a fresher and if you have done internship make sure you mention this along with the projects which you have undertaken while doing the internship.
You can mention your achievements such as certificates which you have got in college or school in sports, academics, voluntary events etc. or even if you have participated in sports, NCC, voluntary events.
You can mention external links such as LinkedIN Profile link, Github link. Any Reference of your Colleague or Manager who can speak good about you can also be mentioned. It will improve your credibility.
Prepare one cover letter in that you mention your current skills and experience/internship. Use this cover letter while applying for companies. Make sure this cover letter can be tweaked with respected to companies' job description where you are applying.
Please don't make your resume lengthy and exaggerated otherwise you can get stuck while explaining to your interviewer.
Your resume must be prepared and designed in such a way that HR must be able to understand in 20 seconds.
One survey says that Hiring manager takes 6-10 seconds to decide whether to shortlist the resume and call the candidate for interview or not.
Post your Resume in good job sites such as Naukri.com, Linkedin.com, Indeed.com, Timesob.com, monstor.com etc. Prepare profiles on these jobsites by adding relevant keyword with respect to your experience, skillsets. Make sure to do small changes in your profile and resume present in these jobsites so that search algorithm on these sites always keep your resume and profile refreshed and on Top.
Hard Skills, Soft Skills and Do's and Don'ts in your interview:
Hard skills are Programming languages such as Python, R, SAS, Machine Learning and Deep Learning Algorithms, SQL, Data Analytics, Data Science, C, C++, Java, Data Mining, Testing skills, Accounting, Finance, Marketing, HR related skills etc.
Soft Skills are Communication skills, Team work, Decision Making skills, Leadership skills, people skills, Motivation skills, listening skills, Time management skills etc.
Make sure you prepare for relevant hard skills and soft skills related to your field. To check your preparation level you can do your self-assessment or you can take help of your mentor who can do your assessment.
Make sure you do listen to the interview questions carefully. While giving the answer take pause of 20-30 seconds and then give your answer.
Sit straight, do keep hands on the table, and don't forget to keep smiling on regular intervals.
In case you don't know the answer of certain questions then you can say you don't know the answer or currently you cannot recall the answer. My advice to you here is Please don't beat around the Bush or don't do the guesswork.
Give Employee centric answers such as you can take work ownership, your focus is on actions and solutions, you are smart worker, contributor, self-starter, your work is task based rather than time based etc.
Research About the Company:
Many students will attend the company interview without researching about that company, this is not correct approach. Before attending any interview you must research about the company.
You can go the company website and find out their vision, mission, industries/sectors for which they work, who are their clients etc.
You can visit the social media handles such as LinkedIN, Twitter, Facebook page, Glassdoor etc.
If possible find out from the person who has scheduled your interview regarding the person who is going to take your interview. You can check your interviewer's social media handle as well.
Please note that company and interviewer will be more interested in you if you show interest in them.
Understand Job Description well:
Find out the post for which you are giving the interview what is the Job Description for that. In that Job description find out the KPIs (Key performance Indicators), KRAs (Key Requirements), Expectations etc.
Prepare yourself for your interview with respect to the above pointers. Focus on those projects and skillsets which match with their Job description, KPIs, KRAs and expectations.
Prepare for common questions such as

Tell me about yourself
Why should we hire you
What are your strengths

Resume based questions

60-80% of questions asked in your interview will be from your resume. Hence what you have written in your resume please make sure you know 100% of that.

Skillset based such as Data Analytics, Data Science, Machine Learning using Python, R, SQL queries, Excel syntax based and questions to solve, work experience based, project based questions, puzzles and aptitude related math and English questions etc.
Salary Negotiation and Ask Intelligent Questions:
If you get opportunity to ask questions to interviewer then ask intelligent questions such as:

With the given Job description/post what problems can be solved
What goals can be achieved by this position

Don't ask whether you are selected or not
Don't stress on Salary Negotiation
In case if they ask on salary you can say as per industry or company standards
Focus on Value creation and Addition
If you keep these points in your mind I am 100% confident that you will get hired in your Dream Company or get the dream job faster. If you feel that this article can help any of your friends and colleague then please do share this article with them and don't forget to subscribe our blog an get notifications on informative articles for your career, skillset, motivation, and life. Thank you for reading this article and sharing with your friends.
Happy Learning..!!!
Our Youtube Video on 5 Tips to get your Dream Job Faster
Best Regards,
Dyuti Lal